Experience the New Volkswagen Arteon
at Riverhead Bay Volkswagen
First impressions in life and when on the road. There are several ways that a car can leave an impression, be it with its style, performance, or features. Finding a vehicle that boasts all three properties can prove challenging. That's why we at Riverhead Bay Volkswagen stock our dealership's lot with vehicles from the new Volkswagen Arteon inventory. With its sleek, bold, and imposing characteristics, our inventory's new Volkswagen Art eon sedans are built to handle any obstacle around Riverhead.
To help you learn more about what to expect from our new Volkswagen Arteon inventory, we at Riverhead Bay Volkswagen prepared an overview, so keep reading.
We're sorry, availability of some equipment, options or features may be limited due to global supply issues affecting the auto industry. Please be sure to verify that the vehicle you purchase includes all expected features and equipment.
What's New for the Volkswagen Arteon
Like other brands, the Volkswagen brand encourages updates and upgrades to its vehicle models to stay ahead of the competition. The new Volkswagen Arteon is no exception.
Since last year's Volkswagen Arteon underwent facelifts, there aren't many updates to its new edition. Some of the most notable changes East Hampton new vehicle shoppers will love include the introduction of a standard black carbon interior trim for the Volkswagen Arteo Premium R-Line and Volkswagen Arteo SEL R-Line models. Additional standard features like LED headlights, a heated steering wheel, a hands-free powered hatch, a light bar in the grille, and curve-adapting cornering lights for the Volkswagen Arteo SE R-Line base model. The Volkswagen Arteo SEL R-Line model switches from 19-inch wheels to 20-inch wheels.
Trim Levels
The new Volkswagen Arteon is available in three trim levels:
Volkswagen Arteon SE R-Line
Volkswagen Arteon SEL Premium R-Line
Volkswagen Arteon SEL R-Line
All three new Volkswagen Arteon models are available at our showroom in Smithtown, each boasting different prices and features. For more information on a particular model in our new Volkswagen Arteon inventory, we recommend you visit the Riverhead Bay Volkswagen website or ask our sales staff.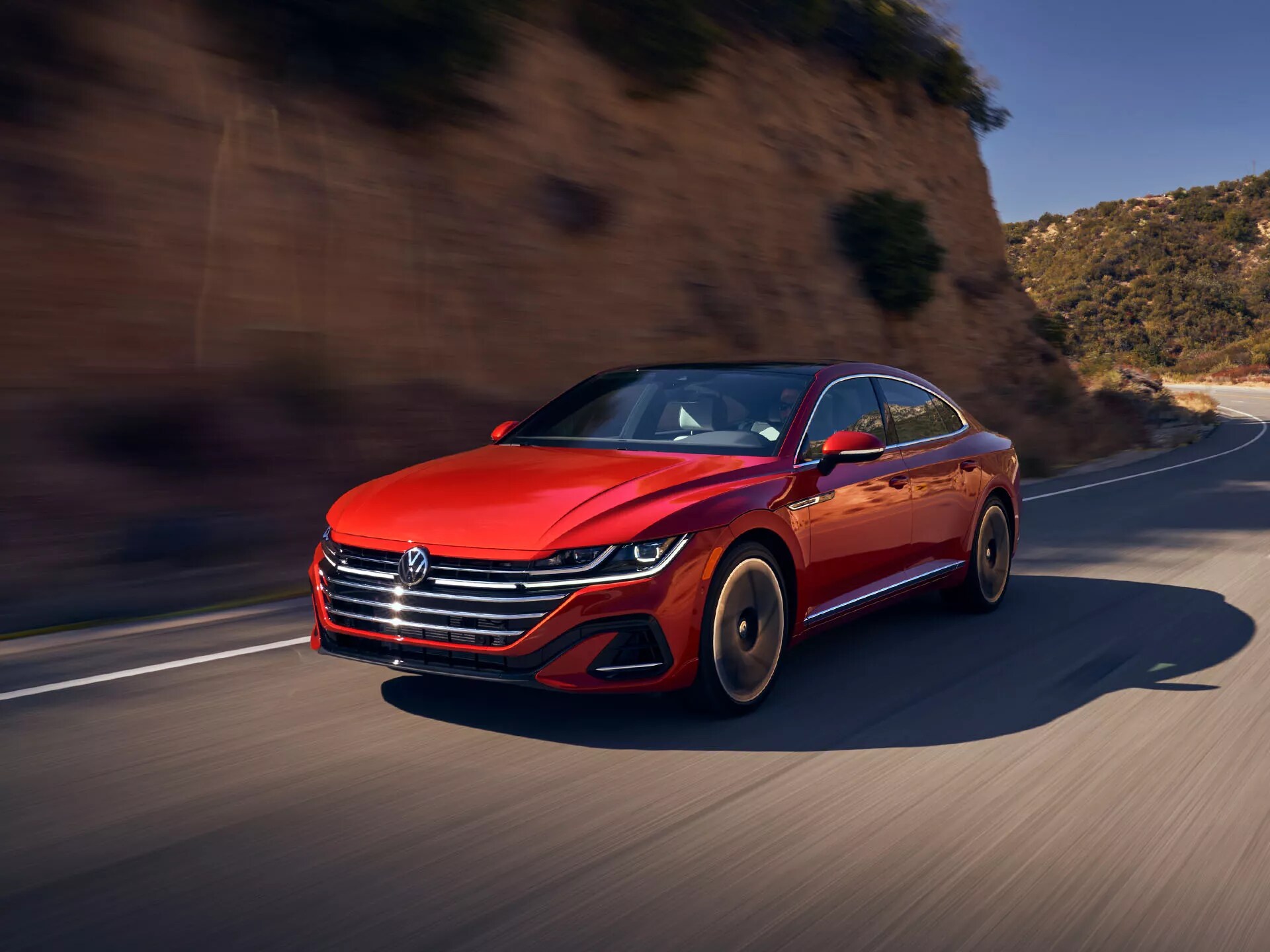 Technology and Safety Features
The new Volkswagen Arteon offers plenty of entertainment and safety technology features, including:
Apple CarPlay and Android Auto integration
Built-in navigation system
Drive driver assistance technology
Harman Kardon premium sound system
Heated steering wheel and seats
Infotainment touchscreen display
Intelligent crash response system
Post-collision braking system
Safety cage
Touch three-zone automatic climate control
Wireless charging
Test Drive
When Coram car shoppers want to make an impression as you drive around Sayville, look no further than Riverhead Bay Volkswagen. Besides their stunning and impressive good looks, the vehicles from our new Volkswagen Arteon inventory also boast multiple highly advanced and innovative features to ensure a smooth, stress-free drive around Medford.
Not all features are standard to every model, so before settling on a specific model, we advise you to familiarize yourself with all the models. Visit our website and head to the compare models feature to determine which model has the features you need. Then, to ensure that the new Volkswagen Arteon model you've chosen fits you, we at Riverhead Bay Volkswagen encourage you to drive to our dealership for a scheduled test drive.
How can we help?
* Indicates a required field